July 9th 2016, Take That played a sold out show at London's Hyde Park to 65,000 fans. Tim Routledge Lighting Design continued their relationship with the band creating a stunning lighting design for this one-off show created by Kim Gavin with set design by Misty Buckley Design and her amazing team, Lighting Design by Tim Routledge, and stunning video content by Luke Halls Studio and a huge team of the Take That family transforming the British Summertime Hyde Park stage overnight led by Chris Vaughan of CV Productions.
Many thanks to Luke Jackson and his team from PRG for their sterling overnight work installing our rig as well as Star Events hanging buckets of festoon across the site. And of course huge thanks to my trusty partner in crime Tom Young for his amazing desk skills and always good humour in helping put the show together. The show was fully programmed in rehearsals using a wysiwyg virtual programming studio and then updated on one overnight session onsite.
On top of the festival house lighting rig, the show featured a huge 10.5m diameter Take That logo made of 144 Ayrton Magic Dots, 122 ColourBlocks and 24 Jarags. The main truss circle was permanent onstage with the 2 "T" elements flying in for the second half of the show that had been stored in a special reinforced section of the stage roof apex. We also added 96 GLP X4s to edge around the 100m catwalk and B Stage to light choreography, 24 PRG Icon Beams and 12 PRG Best Boy HPs. And not forgetting huge amounts of festoon that decorated the stage, B stage and hung between the main stage and the front of house control towers. All controlled by 2 x MA2 Fullsize consoles...
See our concert portfolio page for more photos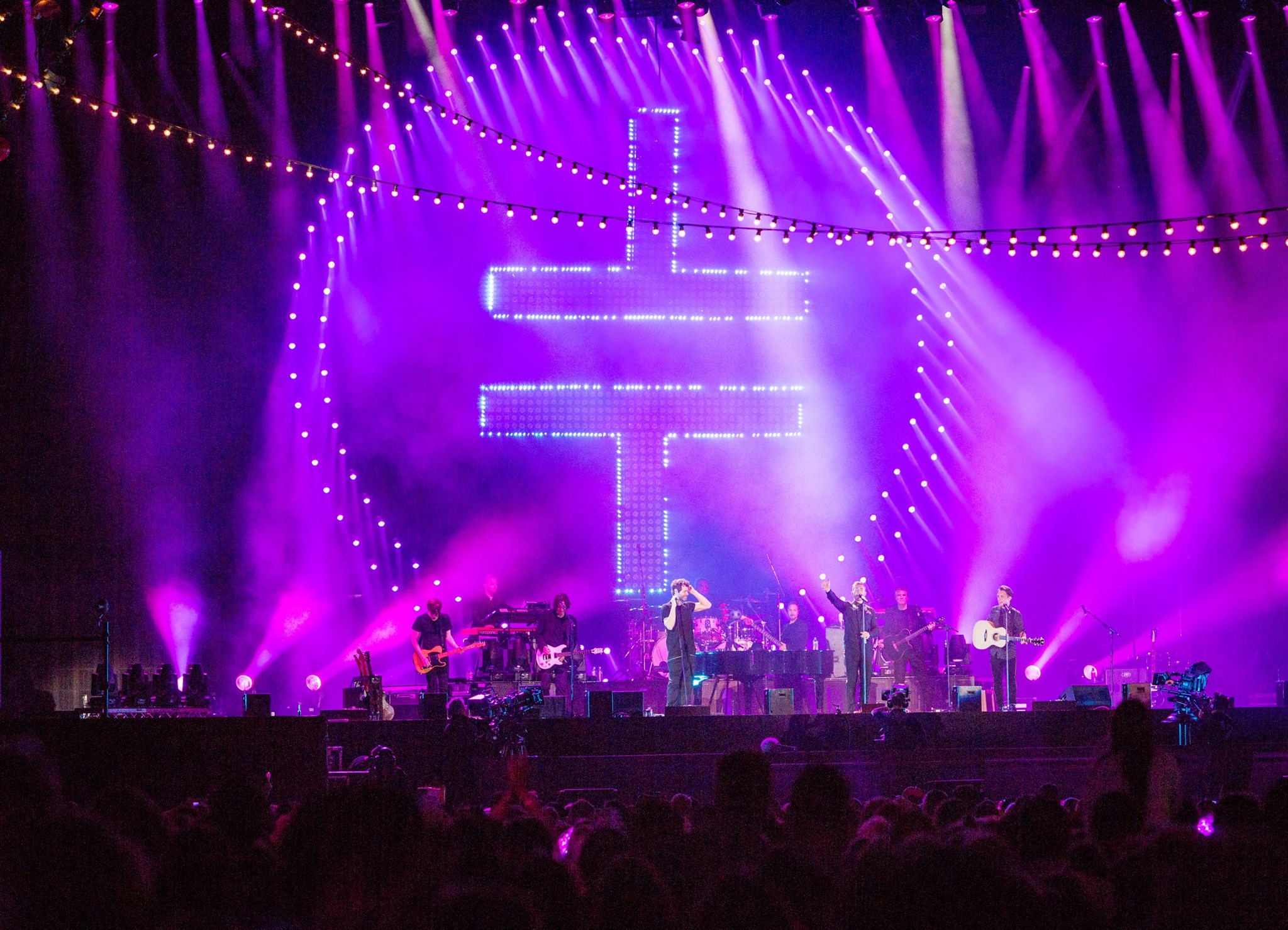 Photos credited to Will Gallegos Photography